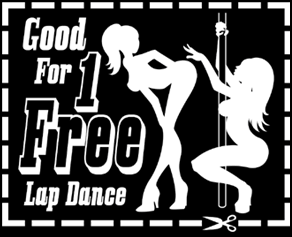 Six hours. It really didn't take
that long
, did it?
A former carpenters union official from Somerset County was convicted in federal court in Trenton today of

pocketing $85,000 from the organization to host hundreds of lunchtime drinking sprees at go-go bars

.

After deliberating less than six hours, a jury found Shawn Clark, 45,

guilty of embezzlement for using the union's American Express card during more than 450 visits over seven years to watering holes that included Johnny A's Hitching Post in Paterson and Pure Go Go in Manville. He faces up to five years in prison for each of the 16 counts in the indictment

.

"You treated that card as if it were your own – didn't you?" Assistant U.S. Attorney V. Grady O'Malley asked Clark during a cross examination.

Clark, the ex-business manager for Local 455 of the International Brotherhood of Carpenters and Joiners, spent hours on the stand last week arguing he was conducting union meetings at the clubs. Part of his job, he said, was

drumming up union business by entertaining contractors, tradesmen and the occasional politician who felt at ease around pulsing music and dancing women

.

But prosecutors said Clark, who was fired from the union in 2008, ruled the local with an "iron fist." To help conceal his bar tabs, which occasionally exceeded $1,000, he installed a close friend as treasurer, said Assistant U.S. Attorney Jonathan Romankow. The prosecutor said Clark traveled to strip clubs miles away from the union's office in Somerville, buying untold number of beers, shots with Red Bull chasers and tiny bottles of Chardonnay for the women on stage.
Wow! You mean 450 visits to go go bars, getting lap dances, and drinking on other people's dime
isn't union business?
Who knew?
Well, at least he'll have some
fond memories
.
__________________
"I bring reason to your ears, and, in language as plain as ABC, hold up truth to your eyes."
Thomas Paine, December 23, 1776
For more news and views on today's unions, go to
LaborUnionReport.com
.